in Yorktown, Virginia
Home Base For Amazing Adventures
Come stay in Historic Yorktown, the town where the American Revolution was won and immerse yourself in 300 years of history and experience a unique blend of the past and present.
Comfortable rooms with a view and all the amenities. An outdoor pool overlooking the river and a beach out front make the perfect basecamp for exploring historic Yorktown and all the nearby attractions of Williamsburg and Virginia Beach. Avoid the traffic and hassle of Williamsburg or Virginia Beach and enjoy the quaint, historic village of Yorktown, while only being a short drive to all the famed, nearby attractions. Make the Yorktown Beach Hotel your basecamp for your next adventure.
Historic Yorktown

Riverfront | Museums | Festivals

Immerse yourself in an area as rich in American history as it is modern-day charm. Travel back to 1781 and walk in the footsteps of our nation's Founders at Colonial National Historical Park, or explore our interactive exhibitions at the American Revolution Museum at Yorktown.

Colonial Williamsburg

Come experience history in the making. It's revolutionary fun with something for everyone. Enjoy everything from luxurious spas, world-class golf, and award-winning restaurants to living-history museums, surprising thrills, biking, and hiking. Whatever your idea of fun is, you'll find it all in Greater Williamsburg, just a short drive from historic Yorktown. Experience Colonial Williamsburg or seek some contemporary thrills at Busch Gardens and Water Country USA. And, in case you missed it, Williamsburg was named one of the New York Times' "52 Places to Go in 2019."

Photo Credit: The Colonial Williamsburg Foundation

Jamestown Rediscovery

Historic Jamestowne offers much to see and do. A typical visit can last 2 to 3 hours, but those wishing to delve deeper into Jamestown's history can easily spend half a day or more exploring the island. Jamestown Rediscovery is committed to supporting preservation, education, and the archaeological investigation of Historic Jamestowne, the original site of the first permanent English settlement in America.
Guest Reviews
Great New Ownership

My niece and I spent a long weekend at Duke of York (now known as Yorktown Beach Hotel) from August 5th through the 8th. We had 3 great nights with adjoining rooms and balconies on the riverfront. Rooms were clean and comfortable. The staff was so great. The hotel has changed ownership and the new Owner/Operator is working hard to upgrade and make it a fun place to visit. My husband and I are returning in a couple of weeks for the Thursday night concert series. We'll enjoy the pool and restaurants, not to mention the concert with Slapnation! Thank you Matt and your staff for a great weekend.

Laura, US

Lovely Beach View

"The location was perfect. Lovely beach in front of the hotel. York town pub which was only 100 metres from the hotel was excellent. Great food and choice of drinks."

Andy, UK

Friendly Staff

"The property was very clean. The staff was friendly. It was a lot to see and do in the area. We loved that the beach basically was out the front door!"

Regina, US

Great Walking Town

Location was fantastic! Amazing! Owner was friendly at the front desk and so was the other staff. Gill was the cat's meow everyday we visited! She took care of little details amazingly! Rooms were very clean! Views from the balcony were gorgeous and a new something to see everyday while enjoying coffee! Bed was comfortable and the rooms were very clean! Great walking town and this hotel is right in the action of it all! Highly recommend it!

Michelle, US
The Sights & Sounds
of the Historic Coast
Yorktown's Beachfront Treasure! The welcoming atmosphere is sure to please business and leisure travelers alike. Yorktown Beach Hotel is the only hotel situated on the Yorktown waterfront, and every room offers views of the York River. Located within the historic village, you will be within walking distance to shopping, dining and the American Revolution Museum at Yorktown. Famed attractions such as Colonial Williamsburg, Busch Gardens, Water Country USA and many other historic attractions are just a short drive away. Take a refreshing swim and enjoy the view from the outdoor pool or relax on the beach right in front of our hotel. Make Yorktown Beach Hotel your basecamp for your next adventure.
The Yorktown Beach Hotel is an ideal location in the historic village of Yorktown, Virginia and is the only hotel which overlooks the beautiful York River.
Yorktown
Food & Drink
Beachfront Fun
Charming Riverside Community
Explore Yorktown
Check out all of the amazing activities available right outside our front door!
Ride the Free Trolley
The Yorktown Trolley picks up in front of the Yorktown Beach Hotel and is a great way to get around Historic Yorktown.
Yorktown Beach Hotel Accommodations
All of our 57 rooms have a beautiful view of the York River, Yorktown Beach and Riverwalk.  Most rooms offer a private balcony or wide, open veranda that opens up to our nicely landscaped grounds, gazebo and outdoor pool. Guests enjoy the comforts of having a refrigerator, coffeemaker, hair dryer, convenient work desk, and complimentary internet access to make your basecamp for exploration even more convenient.
All rooms are Non-smoking
Accessible Room (based on availability) | Connecting Rooms (based on availability)
Cancellation Policy – varies upon season
Check In: After 4:00pm | Check-Out: No later than 11:00am | Pet Policy: We are a pet-friendly hotel, pet fee applies
Chesapeake King
Private Balcony
Spectacular Views of the York River
1 King Bed
Complimentary WIFI & Cable TV
Small Refrigerator & Coffee Maker
Hair Dryer
Free Self-Parking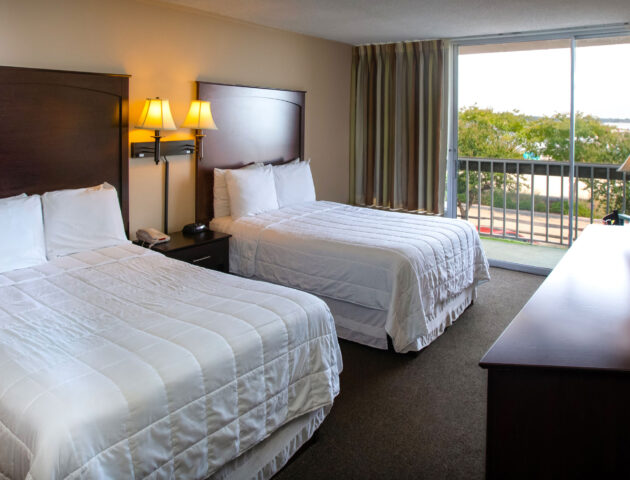 Chesapeake Double
Private Balcony
Spectacular Views of the York River
2 Double Beds
Complimentary WIFI & Cable TV
Small Refrigerator & Coffee Maker
Hair Dryer
Free Self-Parking
Chesapeake Jacuzzi Queen
Private Balcony
Spectacular Views of the York River
1 Queen Bed
Luxurious In-Room Jacuzzi Tub
Complimentary WIFI & Cable TV
Small Refrigerator & Coffee Maker
Hair Dryer
Free Self-Parking
James Queen
Open Veranda Overlooking Landscaped Grounds
Spectacular Views of the York River
1 Queen Bed
Complimentary WIFI & Cable TV
Small Refrigerator & Coffee Maker
Hair Dryer
Free Self-Parking
James Double Superior
Open Veranda Overlooking Landscaped Grounds
Spectacular Views of the York River
2 Double Beds
Premium, Spacious Room with a Comfortable Love Seat
Complimentary WIFI & Cable TV
Small Refrigerator & Coffee Maker
Hair Dryer
Free Self-Parking
James Double
Open Veranda Overlooking Landscaped Grounds
Spectacular Views of the York River
2 Double Beds
Complimentary WIFI & Cable TV
Small Refrigerator & Coffee Maker
Hair Dryer
Free Self-Parking
York King Superior
Secluded Open Veranda Overlooking Landscaped Grounds
Spectacular Views of the York River
1 King Bed
Complimentary WIFI & Cable TV
Small Refrigerator & Coffee Maker
Hair Dryer
Free Self-Parking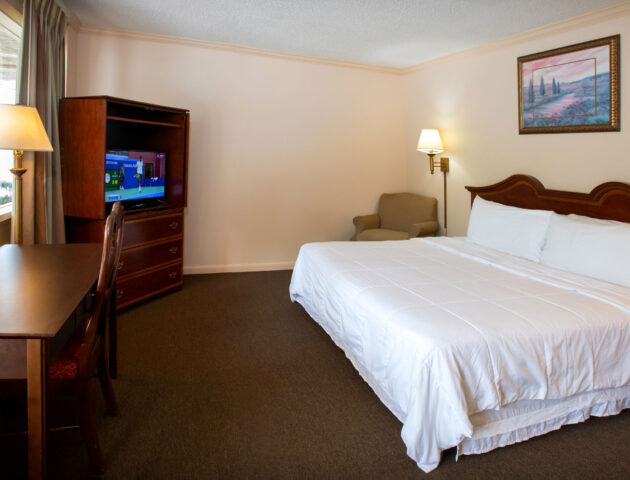 York King Accessible
Open Veranda Overlooking Landscaped Grounds
Spectacular Views of the York River
1 King Bed
Roll-In Shower, Lower Bed & Vanity
Complimentary WIFI & Cable TV
Small Refrigerator & Coffee Maker
Hair Dryer
Free Self-Parking
York King
Open Veranda Overlooking Landscaped Grounds
Spectacular Views of the York River
1 King Bed
Complimentary WIFI & Cable TV
Small Refrigerator & Coffee Maker
Hair Dryer
Free Self-Parking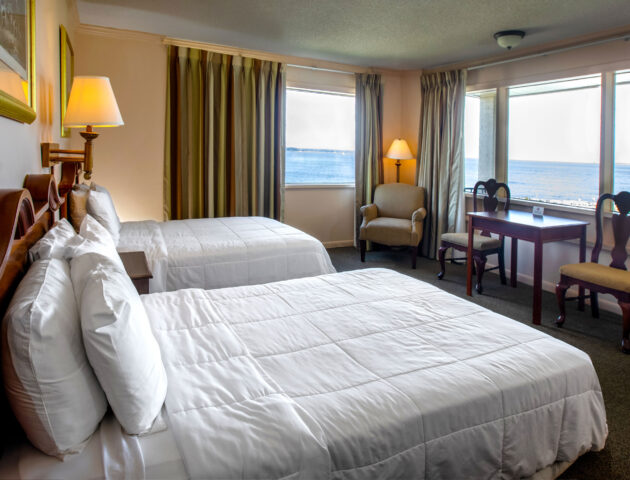 York Double Superior
Secluded Open Veranda Overlooking Landscaped Grounds
Spectacular Views of the York River
2 Double Beds
Complimentary WIFI & Cable TV
Small Refrigerator & Coffee Maker
Hair Dryer
Free Self-Parking
York Double
Open Veranda Overlooking Landscaped Grounds
Spectacular Views of the York River
2 Double Beds
Complimentary WIFI & Cable TV
Small Refrigerator & Coffee Maker
Hair Dryer
Free Self-Parking